The following items and supplies are for sale.
Please call Ken Beachy, Perryhill Farm, Dallas OR (503) 623-4539
(click images for more detailed photos)
Yanmar 187 D 18hp diesel 540/1000 pto, cat 1 3pt, 4x4, only 742 hrs, very nice-$5500
Hillside Blue Berry Cultivator, very good condition, $2900
1951 GMC Mdl 350, 1.5 Ton, 6cyl 270 cu in, 4spd x 2spd, rare 5 window cab, Hyd dump bed 12'. Rebuilt engine, ready for restoration. $2000
Fruit trays. 12" x 18" Plastic and pulp, many sizes. All new, very cheap, thousands available. $50 for 1000.
Harvest clippers, thinning shears, PLU application guns. Cherry/Apple picking buckets/harness. Cheap, Call for prices.
Cooler parts. Compressor/coil 2 hp (from 12 x16' cooler)
Bristol 2 hp compressor. Condition unknown, these were spares for our coolers.
Copeland 2 hp compressor, without coil. (not pictured).
-$100 for all.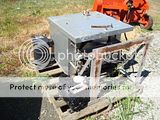 Branch Loc 4" trellis snap ties, used good condition (new $32/1000). Buy these for $5/1000.